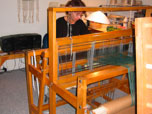 I grew up in a family of artists in New Jersey and Nyack, New York. My father, Harvey Dash, was a successful painter and art educator, starting the Lighthouse School of Art in Nyack, NY in 1967. My mother, Ruth Dash, had a craft gallery in the mid-sixties exhibiting many of the leading artists of the time, and for many years designed and built the sets for many off-Broadway plays including those of the Negro Ensemble Company.
I attended the University of Chicago and the Art Institute of Chicago but finally found my passion through textiles at the Penland School of Crafts in Penland, North Carolina. I studied with Adela Akers, Geraldine Scalone, Janet Taylor and Allen and Dorothy Fannin, among others.
Since then, I have spent over forty years working, exhibiting, and teaching across the U.S. and Europe, focusing much of my energy in New York, Oregon, and Idaho. I have continued to explore textiles in all their forms as well as expanding into and experimenting with works on paper. I currently have pieces in private and public collections from Seattle to Barcelona.
Over the course of my career, my work has encompassed weaving, drawing, painting, and printmaking. More specifically, it includes tapestries, wall hangings, installation pieces, drawings, prints and commercial design. In all these mediums, the structure, texture, and pattern of woven cloth are a point of departure. The results are images derived and distilled from patterns in nature. I do not separate the concepts of "art" and "craft" in my work. Both my woven forms and my painted images are part of the same journey. A journey in which the fabric of life becomes the fabric itself.